Diamond jewelry has had an impact on society along with others for ages as a luxury for many wealthy and other well-to-do individuals; however, in recent times, the diamond has become more common in jewelry for all individuals.
The most popular form of diamond jewelry is that of an engagement ring.
With millions of couples getting engaged or married each year, many diamond engagement or wedding rings will be purchased. There are many individuals who are unsure where an item came from or how it is made. Since diamonds do not magically appear in jewelry, workers are needed for this careful process.
Once the final diamond jewelry product is developed, it will need to be transported to a jewelry store.
The diamond, along with other popular jewelry forms, helps create more jobs in this atmosphere. Physical jewelry stores typically have a large number of employees in each store, which allows each customer to get the individual and personal attention that they deserve.

Online jewelry stores are also popular. Many jewelry stores with physical locations also offer their products online; however, many other online jewelry stores are just regular people trying to make a living. The easy availability of diamonds and diamond jewelry makes it possible for stay-at-home parents or disabled individuals to make a living by selling diamond jewelry.
Employment is often the most thought about positive impact that diamond jewelry has had on society.
In addition to traditional jewelry makers and designers, scientists have been impacted by and employed by the diamond industry. Technology has come a long way in transforming standard diamonds into breathtaking jewelry. Manufacturing procedures have greatly improved in recent years. Scientists and other researchers are constantly working on new ways to produce quality diamond jewelry. The technology used for manufacturing diamonds and jewelry can be helpful for other jewelry makers and other manufacturing fields.

One impact that diamonds and diamond jewelry has on society is how it makes society members feel.
A diamond jewelry piece is a beautiful and important piece of merchandise to receive. Many individuals feel pleased and exude self-confidence when receiving or wearing a piece of diamond jewelry. A happy individual makes for a more improved society, even if it is only one or two individuals at a time.
Diamond jewelry has been around for ages, and to this day it continues to have a positive impact on many societies. Whether it be to help create more jobs, improve science, or improve the overall well-being of many individuals, the diamond has an important purpose in our society.
Shop the Chow Sang Sang New Year's Rabbit Collection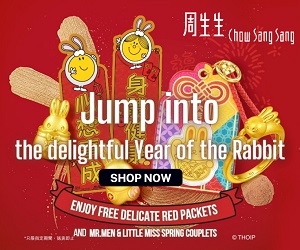 Purchase two or more selected Jump Into accessories, Enjoy 10% off for fixed price ; If purchase price-by-weight accessories, Enjoy 40% off labour charge
Shopping in this Chinese New Year, Enjoy free delicate red packets and Mr.Men Little Miss spring couplets
Purchase every 2 Charme, Enjoy 1 free cord
For quality jewelry at affordable prices, visit chowsangsang.com today.