While this year has been tough for the fashion world, this season has unveiled chic yet bold designs. Oversized blazers, sleek face masks, and folk-inspired coats dominated Fashion Weeks for the last few weeks. This year, you'll be surprised to see that this season's looks are inspired by the most influential decades that have played a notable role in this season's looks. Below are some of the suggested fashion trends for women you can try this spring.
Play with shapes and create a long line silhouette with this 80s-inspired oversized boyfriend jacket. This outerwear has shoulder pads that help cinches in your waist and elongates your legs. For an ultra-modern style, pair it with straight-leg trousers or leather shorts in colors like charcoals, powder blue, and neutrals.
When it comes to wearing masks, you may also want to do it beautifully. These sleek black face masks offer great coverage for your nose and mouth and match almost any outfit you wear. In addition, choose a silky fabric for easier breathing or something with embellishments if you're feeling fancy. Wear anything from a color-blocking suit to a red trench coat and look exceptionally stylish.

These headscarves are the 50s- and 60s-inspired accessory that helps protect your hair and add a finishing touch to your outfit. Opt for a silky design with intricate patterns or floral motifs, or keep it simple with block letters and bold colors. For instance, when styling, have this fabric hanging off the back of your head or wrap it under your chin in a loose knot. Mix things up by wrapping this sleek fashion trend around your neck or let it dangle from your bag.
For this season, the yellow bags have taken over the runways and the streets. This trend is timeless and easy to replicate. Choose a small clutch or find a mustard tote to spice up an outfit for your daily needs. This comes with several shades that you can choose from that complement your style. Moreover, pair this accessory with other vibrant hues or a monochromatic ensemble for an incredible look. Opt for a sleek canary baguette for a night out or an amber structured handbag with an all-white get-up.

Go all out this Spring/Summer season with these beautiful and intricate folk-inspired coats. Add some layers of delicate embroidery and lace when the temperature starts to drop to keep your outfit hot. Each piece of outerwear comes with an intricate tapestry that looks great with a brown ensemble or monochrome black, or you may choose a series of other bright and interesting choices of colors. Above all, this women's fashion trend looks fantastic and easy to style with on every body type.
Lastly, these white knee-high boots are classic gogo dancers-inspired footwear that will swing you back to the '60s. In addition, pair it with a patterned skirt or mini dress or a funky pair of leggings for a stylish way to elevate your outfit. Opt for a slouchy style this season for an effortless feel, or keep it tight and sleek for a sexy touch.
VEVOR.com products are high quality with unbeatable prices.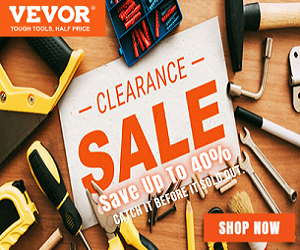 VEVOR specialized in Business and Industrial Products like Kitchenware, Machinery Tools, Sporting Goods, Pet Products, Home and Garden products. They are always committed to supplying an incredible assortment of excellent quality products with unbeatable prices. VEVOR offers 30 DAYS FREE RETURN, 12 MONTHS WARRANTY, SHIPPING IN 24 HOURS and FREE DELIVERY WITHIN 5 DAYS. For products and discount promotions, visit vevor.com for more details.