Every baby came through the stage of craving for activities. It usually starts at four months to 9 months old. It is the age where parents are looking forward to having a quick break while carrying their babies and rely on jumpers. Jumpers are where babies are mostly seated while their mothers are doing some house chores. It is where they play and do some activities while improving their muscle controls. If you plan on checking out the best jumpers for your babies or future babies, here are the best of the best baby jumpers that can entertain your babies and catch their attention in any way possible.
If you are looking for the parents' favorite, this is the jumper for you. Parents who already bought this Rainforest Jumperoo put this on their favorite list because of the quality and features. The seat can rotate a full 360 degrees, and there are toys in different spots in the jumper. It has a heart with soft spring covers that prevents tiny fingers from getting pinched. It is perfect for babies who are 25 pounds and 32 inches tall.

Parents are considering things in choosing products for their babies to secure their safety and make sure they will entertain them. The jolly jumper is the best jumper for your baby because of its supportive saddle that keeps babies somewhat upright when they bounce. It might accommodate quite a bit of space, but the good thing about it is that it can easily fold when not in use. They have no toys attached to this jumper, but upon the reviews, parents shared that their kids love to jump while watching themselves in the mirrors.
If you are looking for a jumper to help your baby tone your muscles, this one's for you. The springy bounce base that will encourage the babies to jump, and there are toys attached that can be removed and used separately. It will help your kids learn pushing, turning, reaching, and pulling. It is perfect for babies who are 30 inches tall and 25 pounds.

Babies are always mesmerized by toys with a musical theme. The next jumper is musical themed for babies with a reasonably small footprint. The babies can play with the bongo drum set, musical toys like piano, tambourine, and guitar. They will enjoy playing because the seat can also rotate in a full 360 degrees. It is limited to 24 pounds babies.
Speaking of Baby Jumpers That Can Entertain Your Babies, if you are looking for quality, check this one out. It has clean lines with stylish graphic print fabric. It is one of the better-looking jumpers in the market. Parents are always thinking about keeping the things they bought for their kids when they outgrow them, but this jumper can solve this problem because it converts into a toddler table. The limit of this jumper is for 22 pounds kids.
PatPat.com makes outfitting your kids easy and fun!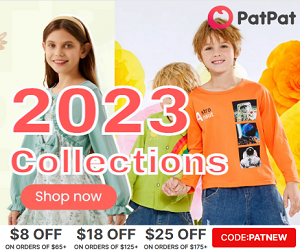 Patpat is a shopping platform for moms to find great deals for themselves and their families, without spending a lot of time and money. And picking the right clothing for babies and kids at Patpat.com is very easy because they are made to be seasonable and comfortable for them.  Simply, they offer a large assortment of cute, quality clothes at great prices so that families all around the world can have more joyful moments. Visit Patpat.com for special discounts for your kids & babies clothing needs.